Above photo credit: @Chookooloonks. All others below and video are mine and taken with an iPhone 6.
It's been five days since I left Malawi and all I can think about are the children. Their faces of joy, curiosity and excitement as soon as they'd see our caravan of vans arrive at their village are permanently engraved in my being. They wanted to be close to us, but they always kept a respectful distance until we'd take a picture and turn the camera around to show it to them. They would immediately huddle up around it in eagerness to see themselves, for many the first time ever.
These children we met in Malawi live in rural villages where everyday life is a far cry from anything my daughter would ever truly understand. So I've been sharing with her the stories of these kids she sees smiling on my pictures and hears laughing on my videos. She's curious to know how they live and why they look so happy if they don't have shoes and their faces and  clothes are so dirty. And that's the hardest question of all to respond and the one I've been struggling with ever since I came back.
What I do know is that these children living in extreme poverty are the reason why the aid that organizations like Heifer International, with the support of advocacy from ONE Campaign, is so needed. The work Heifer does locally is very extensive and comprehensive and the basis of it is to not provide direct charity, but to help families struggling to guarantee the basic necessities like food, shelter, health and education through a series of interventions, the most well-known being providing livestock such as goat and cows — through our donations — and also training farmers on how to care for them so that one gift can last generations. I'm preparing another post where I share in depth the life-altering work that Heifer is doing in Malawi through the stories of village women and farmers we met.
These beautiful girls and boys are being raised in one of the 20 poorest countries in the world. They were already born having to rise above the odds. According to a 2013 UNICEF report, 52 percent of the Malawi population lives on less than USD $ 0.32 a day and one in five live in what is considered extreme poverty conditions, meaning they don't have enough resources to feed themselves, much less provide the country's four million children living in poverty the basic needs like health, an education, proper nutrition and shelter.
While Malawi is plagued with deep-rooted problems including being land-locked, low natural resources, subpar access to electricity (only 9 percent of the population is on the grid), and constantly being plagued with natural disasters such as floods and droughts, we did see hope. The hope we witnessed came from meeting strong-willed women and men that have decided to rise above their conditions, in large part by seeking out the direct support of organizations like Heifer International.
We heard from them how their children can now have the option to attend secondary school (primary school is free) because not only can they now afford it, but the renewed confidence in parents being able to provide, also opens them up to understanding their children in school is more valuable than having them helping at home or, for girls, married at 13.
They shared stories of how they can now have three full meals everyday year round, instead of not knowing when they would have enough and when not.
For others, just having a bicycle allowed them to cut the distance they have to travel to deliver their cow's milk to the milk bulking facility every day. More milk delivered is more income and that translates to a better future for their children.
That's the hope we saw. In individual stories shared with welcoming arms to their homes.
I truly believe that change has to happen one by one, at an individual and grass roots level. The stories of rising above the hand they have been dealt with are the ones that have a trickle effect within their communities, but most of all as example to their children.
You can be part of providing that hope. Please click on the ONE Girls and Women image below and just give us your voice. That's all ONE asks. Sign up, learn about issues affecting girls and women around the world and use your voice to share their stories.
Click on the Heifer image below to learn more about their life-changing work and how your small donation can have a huge impact with massive ripple effects.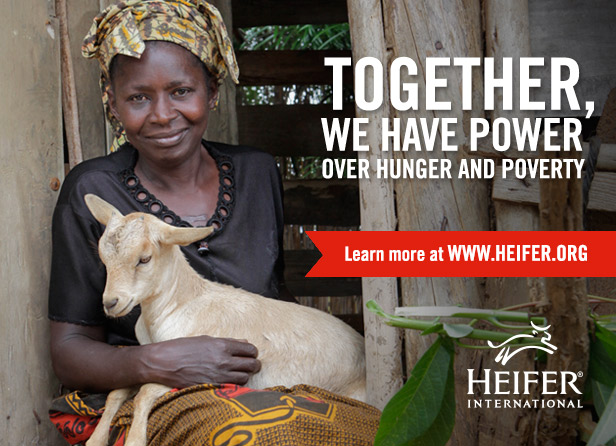 I'm grateful you took the time to visit and read this post. I feel a huge amount of gratitude to have been given the opportunity to use my voice to share the stories of hope from Malawi. And I have that voice thanks to you being here listening and taking action. Mil gracias.
——
For more stories from the #ONEHeifer writers, check out this Flipboard magazine where I've been collecting them all.
Disclosure: I traveled to Malawi as an expense-paid guest of The ONE Campaign (www.one.org) and Heifer International (www.heifer.org). We were there to see the economic progress—and the lives changed—made possible by US-funded programs and Heifer International's donor-supported programs.